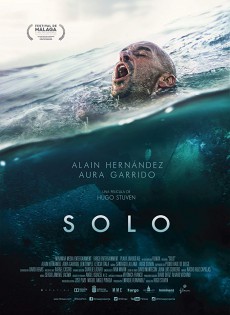 His story, Solo, transmitted by word of mouth in this little island, already made us exclaim «it's a film story». And so will it be. In a dinner with friends where Stuven was, he narrated his experience, and the film director was flabbergasted and captivated by his vitality, this man, his strength, his life. A phone call, a one to one conversation, a meeting with a scriptwriter and one year later with the producer, Miramar Media Entertainment leading; here is a whole team of cinema professionals ready to tell a real but incredible story.
«What is incredible is that we have taken such short time to set in motion this film», Álvaro states, who could never think that his life, or at least a piece of it, could ever be seen in the big screen. He thinks it has been pure chance, again, «that great paradox that life turns out to be».
Alain Hernández arrived some minutes later, not to interrupt the narration of his character. The colour of his face and his clothes let us know that the few days the has been on the island have been enough to start out in surf as a rehearsal for his role. «I am starting out in surf, climbing and diving at record-breaking speed. Physical training is important not just because the three sports have been moments in history, but because they prepare you mentally. Now I am ready for Jesús Calleja to call me and take part in one of his adventures», Hernández kids.