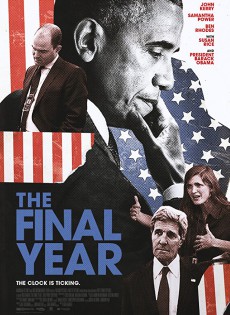 Award-winning filmmaker Greg Barker (HBO's 
Manhunt
) offers a unique insider's account of President Barack Obama's foreign-policy team during its last year in office. Featuring unprecedented "fly-on-the-wall" access inside the White House and State Department, the film offers an uncompromising view of the inner workings of the Obama Administration as it prepares to leave power after eight years.
The film revolves around top members of Obama's foreign policy team: Secretary of State John Kerry, UN Ambassador Samantha Power, and Deputy National Security Adviser Ben Rhodes, as well as National Security Adviser Susan Rice and President Obama himself. 
The Final Year
follows each of these personalities as they travel the world over the course of 2016, attempting to solidify and "lock-in" policies that they believe will define their legacy, promote diplomacy, and fundamentally alter how the U.S. government confronts questions of war and peace – all while preparing to hand over the machinery of American power to a new administration.
Advertising